This content is a study of the twelve large mural paintings in Derry City, Northern Ireland, known as 'The People's Gallery'. These artworks were created by three local artists from the Bogside area of Derry City, and they (Tom Kelly, Will Kelly and Kevin Hasson) are known as the Bogside Artists.
The Gallery is unique for a number of reasons – initially the project was funded by local residents; the artists also endured the experiences depicted in the murals; it has become a very popular (free) art gallery, as tourists now flock to former areas of conflict, and the artists have shown impressive resilience and authenticity in persevering with their idea. 
It is advisable to watch the two lessons on the Northern Ireland Civil Rights Movement (part 1 and part 2) before this class.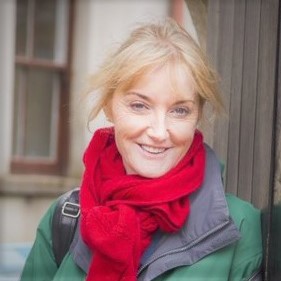 Niamh Hamill PhD
Hi, I'm Niamh, and I'll be taking you on this fascinating tour of the unique murals of the Derry City Bogside known as 'The People's Gallery'. If you are not familiar with the background to the Civil Rights movement in Northern Ireland, you should take a look at classes 300 and 301 before this one, if you can.
In each of our classes, we have added aspects and perspectives that will help you to add a global dimension to your learning. Comparative and critical thinking is the goal of all our lessons. Thank you in advance for using this content, please do return the evaluation sheet and let us know what other content you would like to have us create.
Course Curriculum
Available in days

days after you enroll

The People's Gallery: Murals of the Bogside
Donations
The Intercultural Ireland Content Library is here for any teacher, student, parent or individual who would like to use it. If you, or your institution can afford to donate, this will help us continue to develop more free content, and continue to educate from Ireland. Many thanks if you can, we very much appreciate your support.
More mini-classes for your enjoyment
Check out more content in this library. Please let us know if there is content you would like us to add. Classes are all ADA compliant and suitable for high school & college students, and all classes include a lesson plan, learning outcomes, student quiz and evaluation sheet. All class content is free to use, but donations gratefully received if possible.